What is Programmatic Advertising?
Programmatic advertising uses software to buy digital ad space, most often in an automated, real-time bidding process. It allows advertisers to reach specific audiences across social channels and a vast ecosystem of websites around the world, in multiple format across all device types. The programmatic advertising landscape is even evolving to include traditional channels like TV, digital out of home and audio.
Why is it Different?
The buying and selling of digital advertising has traditionally been a manual process involving human negotiations. With programmatic advertising, however, the sale of ad space occurs in real time; powered by artificial intelligence that learns to bid effectively based on the advertiser's parameters. It's helpful to think of the programmatic process as a live auction, with the advertiser paying only what the ad space is worth and how relevant the space is at that exact moment in time.
Advertisers can set up their bids according to several criteria, such as the prospect's location, demographics, time of day, day of week, browsing data, search behaviour, device type and internet browser. The result is more targeted, efficient and measurable advertising.
By Reading This Guide, You'll Learn To..
Here are five key takeaways you'll gain from reading the rest of this guide.
1.
Reach more people
Programmatic buying empowers brands to reach the larger audiences with tailored messages across multiple channels, formats and devices simultaneously; capturing attention when it matters most.
2. Target the right audience
As the holy grail of audience targeting, programmatic uses intelligent customer insights and live, in-market audience data to reach more suitable prospects, increase engagement and drive better ROI.
3. Measure more effectively
Real-time advertising analysis allows brands to optimise campaign performance by being able to see what kind of customers are viewing their ads, where they're seeing them, on what devices, and exactly when they decide to take action.
4. Personalise the customer journey
Create intimately personalised, highly relevant ads at scale using time-efficient dynamic templates and automated processes that eliminate complexity, cut down creative costs and inspire action.
After all, there are more than 3.2 billion active internet users in the world, and programmatic allows advertisers to access almost all premium website display inventory (up to 98% in Australia).
5. Enjoy superior performance
Programmatic buying provides businesses of all sizes a more efficient, effective and affordable way to advertise. Its transparency and measurability allow brands to optimise their campaigns and get more ROI from their advertising budget, whether it's $50 thousand or $5 thousand dollars.
By now you may be thinking "gee, this programmatic stuff sounds like hard work." But stick with us, it's worth the acronyms and obtuse explanations. In the next chapter, you'll gain a practical understanding of how you can get started with your own programmatic campaign today.
The Programmatic Advertising Process
The programmatic advertising process involves multiple parties, criteria and of course, acronyms. But in the simplest terms, the process involves:
A publisher receiving a site visitor.
The publisher matching the site visitor's profile to a suitable advertiser who is bidding in a real-time auction.
The publisher serving an ad and sending information back to the advertiser.
In more sophisticated terms, the programmatic process involves:
The advertiser bidding for impressions that fit inside their budget and targeting parameters.
The publisher seeking to fill all of their ad inventory at the rate dictated by the market.
A programmatic algorithm using real-time data to find the best online audiences and bid on ad space across devices.
Confused/ Still unsure? This video unpacks the programmatic buying and real-time bidding process in a 200ms lifespan:


3 Types of Programmatic Ad Buying
There are three categories of programmatic ad buying, which define how the ad inventory is bought and sold:
Programmatic Open Auction (POA) also referred to as Real Time Bidding (RTB) allows an advertiser to bid on individual impressions, much like an auction, rather than agreeing to a pre-determined fixed pricing. Buying in real time is more cost-effective, reduces waste and can prevent advertisers from overpaying for media.
Programmatic RTB also offers more control and flexibility over the performance of campaigns, allowing agencies and advertisers alike to track adjust channels, creative, budgets and bids, all in real time.
Private marketplace (PMP) is an invite-only variation of the RTB model whereby the terms of the deal are pre-negotiated between the buyer and seller but not necessarily guaranteed (eg specific site/s or network/s, rate, type of inventory, audience).
This method is typically offered by publishers with more premium (i.e. coveted and expensive) inventory—think major media sites like smh.com.au or The New York Times.com.
Programmatic Direct is a one-to-one media-buying process much akin to the traditional method whereby salespeople met with advertisers in person to strike a deal.
It is a very similar model to the private marketplace (PMP), with the exception that advertisers and publishers agree on specific inventory based on a fixed price (CPM) that is guaranteed to run across specific networks or publisher sites.
Programmatic Prospecting & Retargeting
The Marketing Funnel Re-imagined
As a marketer, you'd probably be familiar with the concept of 'prospecting' and 'retargeting' and the fundamental role they play in driving consumer demand across most advertising channels - traditional and digital.
Programmatic follows all the same fundamental principles of advertising, however, the application of finding new prospects/opportunities and converting them is vastly different. This is just one of the things that sets programmatic apart and puts it way ahead of the game.

This might sound like jargonistic mumbo jumbo, but bear with us - this bit is important and may just help you understand why programmatic is the fastest growing method of digital advertising today.
Let's take a look at the differences between standard and programmatic prospecting and retargeting.
Standard PROSPECTING – seeking out potential new customers using demographic targeting applied across contextually relevant environments on a single website or network.
For example, a local hotel brand advertising on the SMH Traveller website is looking to reach a 'travel intender' audience, in the hope they may be looking to book a hotel room. This contextual placement is usually bought on CPM (cost per thousand impressions) rate, locked in over a period of time and generally not tracked to customer acquisition.
Standard RETARGETING – bringing back prospects who have simply landed on your website and displayed non-specific behaviours.
For example, you've been on a travel website looking for places to go for an overseas snow holiday. For weeks after, you keep getting retargeted by a local hotel brand selling 'summer saver' packages.
PROGRAMMATIC PROSPECTING – uses data to reach and connect relevant new audiences across multiple channels, ad units and devices simultaneously.
For example, a hotel brand selling summer packages is looking to connect with new audiences that have showed recent online behaviours (low or mid intent) for booking a hotel or summer holiday, short term stay in a relevant metro city location.
PROGRAMMATIC RETARGETING – re-engages past visitors based on their behaviour on your website. The prospect is identified as being 'low, mid or high' intent as the AI learns where and how they should be re-engaged to have the best likelihood of conversion at the lowest cost.
For example, you've been researching overseas snow holidays online for a few weeks and decided on a preferred destination and price point. You're reading an article on your favourite news website and an ad catches your attention from a snow vendor offering the right destination at the right price. You click through and book the deal.
Programmatic 'closes the gap'
Ultimately, having the ability to determine the format or type of content to include in your advertising message, delivered to an individual at just the right time can maximise engagement levels – without the need to run two completely independent campaigns.
Both prospecting and retargeting methods that combine the use of AI with ad bidding technology (RTB) can effectively 'close the gap' by honing in on a single opportunity rather than relying on broader audience clusters. Individual users can be targeted and retargeted based on an infinite combination of previous activities and preferences, speeding up the process of prospecting and retargeting, eliminating wastage and maximising conversion rates. The promise of 'every ad impression counts' delivered!
The Programmatic Vendor Ecosystem
There's a lot of technology involved in programmatic advertising, and as such, there are a number of competing technology platforms that marketers can choose from. Below are some of the main players within the programmatic vendor ecosystem and a brief description of what they do.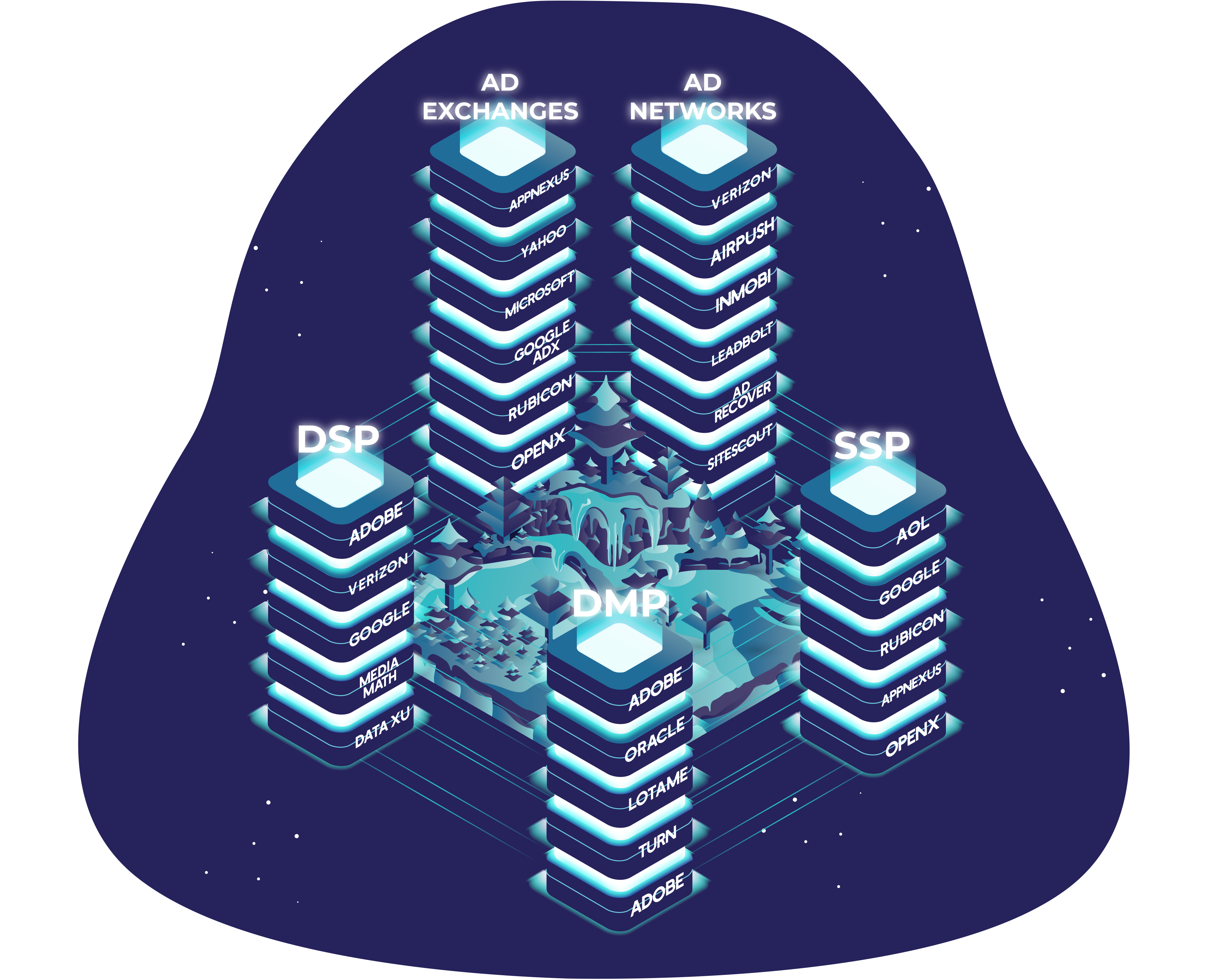 DMPs
As you'll remember from our glossary of key terms, a DMP is a data management platform, which essentially houses the information publishers need to sell their ad impressions and the data advertisers need to buy them.
For marketers like yourself, DMP's provide a detailed view of your audience, including demographics, online behaviour, personal interests and more. DMPs integrate with DSPs and SSPs (try saying that 10 times fast), to ensure your ads are reaching the right audience for your campaign goals.
DSPs
Demand-side platforms (DSPs) are where a lot of the magic happens for advertisers. They're the software platforms that use artificial intelligence to automate the buying of ad impressions, target specific audiences, and bid for ad inventory in real time.
It's also worth noting that some agencies offer their own custom buying platforms (also called trading desks), that use some of the technologies listed above.
SSPs
Supply-side platforms are where the magic happens for publishers. They can be considered the publisher equivalent of a DSP; allowing publishers to manage and sell their ad inventory in an automated fashion. But whereas DSPs aim to buy ad space at the lowest rate, SSPs aim to sell it at the highest price. It's a technology war, people!
Exchanges
An ad exchange is a virtual marketplace where suppliers sell their ad space to buyers. I hear you asking "but wait, don't SSPs do that?" It's helpful to think of an ad exchange as the middleman between demand-side platforms and supply-side platforms.
In more technical terms, they announce the impression in real time and ask automated buyers if they're interested in bidding for it.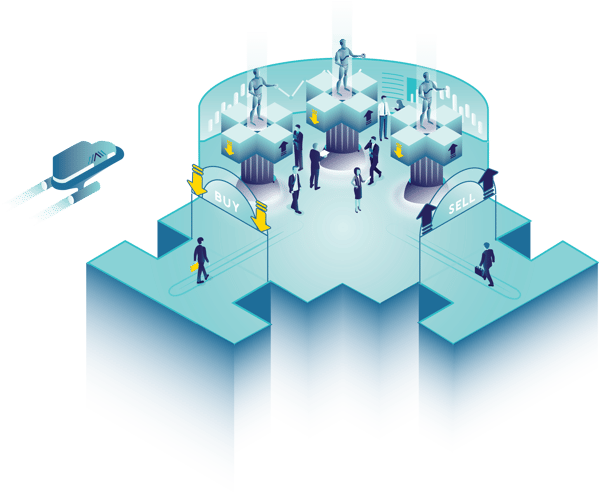 Ad Networks
Ad networks are a little different; they gather an inventory of unsold ad space and sell it to advertisers, taking a cut in the process. Ad networks also offer to manage the campaigns and targeting on behalf of agencies and advertisers, so you can think of them like outsourced programmatic media companies.
Why are Marketers Embracing Programmatic Advertising?
Are you still with us? Holding up okay? Pour yourself a coffee and relax because it gets easier from here. By now you should have an understanding of the technologies, process and acronyms involved in programmatic advertising. Now it's time for the fun part; what exactly do marketers and advertisers gain from using it?
To answer that question in three simple ways, marketers gain:
Brand Scale without the price tag.

Total visibility and transparency on the performance of their ads.

Improved marketing performance across all media channels.
Still unsure? Below are the top 10 key benefits of programmatic in more detail.
Top 10 Key Benefits and Business outcomes using Programmatic Advertising Technology
1. Reach more people across more channels
As we mentioned earlier, mass media such as TV and radio were once considered the best way advertisers could reach a large audience but you also needed a pretty big budget ... Programmatic doesn't just offer a vastly cheaper alternative; it also connects advertisers to just about anyone who uses the internet, and there's a lot of them.
According to a report released in Jan 2018 by Hootsuite and We are Social, Digital in Australia, 88% of Australians (21.74 million) are active internet users. 90% of them spend more than 5 hours a day on the web, compared with 3 hours watching TV.
Better yet, it allows advertisers to connect with these people across multiple channels, whether that's while they use the desktop at home, the phone during their commute or even TV while watching their favourite show. In a nutshell programmatic bring big scale minus the big price tag.
2. Superior Targeting
What if you could reach a precisely defined audience with a tailored and contextual message, and then track their behaviour post impression all the way to conversion? Programmatic advertising is the holy grail of targeting, using Artificial Intelligence (AI) to enhance the machine learning process so the technology can work towards more accurately 'predicting' who is likely to be interested in your products or services so it can find them a lot faster for less media expenditure. In programmatic terms, this is referred to as the activation of 'predictive audience segments'.
3. Transparency
If you've ever embarked on an outdoor advertising campaign, you'll know that reporting the results to your boss is no simple task. With programmatic advertising, you gain an accurate view of where your ad is placed, who is seeing it, what they're doing after that and how much the entire process is costing you - all in real time!
4. Real-time Measurement
You'll hear a lot about 'real-time' when researching programmatic, but what does it really mean for your ad spend? Being able to measure your performance as it happens allows you to make changes as you see fit. There's no need to wait until the campaign has wrapped up before gaining clarity on your results.
Real-time measurement means you will become a better more data-driven marketer, equipped to react with speed and agility, taking advantage of market trends and developing messages that are resonating with audiences before your competitors do.
5. Grow and Sustain Revenue
When first embarking on a programmatic campaign,
you'll notice the sheer volume of new visitors to your website and a gradual uplift in performance from your other marketing channels. Programmatic develops learnings from multiple channels at the same time, bringing more qualified traffic into your sales funnel and and cutting down the time [and cost] it takes to acquire a lead or sale.
They key to sustained revenue growth from programmatic is maintain momentum over time. AI learning models become more powerful over time and for most marketers who stick it out and run programmatic as a stable benefit from being able to forecast ROAS (return on ad spend) and revenue generation on a monthly or quarterly basis.
The benefits are far reaching. Support, nurture, nourish, carry on.
6. Brand Safety
When done poorly, display advertising can do far more harm than good. Imagine your brand's advertising placed beside upsetting, offensive and illegal content online. Not ideal. And in the words of Richard Branson, "It takes 20 years to build a reputation and 5 minutes to ruin it."
Nowadays, most advanced programmatic demand side platforms come with built-in brand safety features and software that ensure your brand will only run with brand safe networks and publishers.
7. Become an Agile Marketer
You'll hear a lot of marketers say obtuse things like "digital success hinges on speed" and "if you're not agile, you're not winning." What does this really mean? Agility
is all about having the resources and capabilities to make things run more efficiently, improve performance and react to information in a timely way; all things that programmatic allows.
The agile nature of programmatic means that nothing (including how your budget is being spent) is set in stone.
8. Get Personal
The days of 'spray and pray' are over. No longer can the big brands rely on the power of big ad budgets, spraying audiences with irrelevant messaging, praying they'll catch a few engaged souls along the way.
Advertising should be personal because consumers demand it and quite frankly - your brand survival depends on it. Your message needs to be relevant to the right people and to resonate with them at just the right moment.
The ability to conduct omnichannel advertising campaigns that can be governed by advanced creative techniques such as dynamic creative optimisation, makes programmatic a highly personalised approach. It also allows consumers to develop a closer affinity with your brand because you've delivered a more personal advertising experience. Better yet, you've delivered digital moments that matter.
9. Gain Cost Efficiency
Have you ever researched the costs of a Times Square billboard or even one on the road into Sydney airport? Hint - it's expensive.
But programmatic doesn't just present a more cost-efficient option because it's digital. The real-time bidding process that is powered by artificial intelligence ensures you're getting the optimum price per impression every time. You're paying what that ad space is actually worth to reach a particular prospect in respect to their online and offline behaviours. Even better, you can set your own parameters for what you're willing to pay for an ad impression based upon lots of different criteria such as specific URLs, user behaviour, demographics, ad units, time of day, day of week, location etc.
10. It's Getting Easier
Programmatic isn't the most recent innovation, however, it's becoming increasingly accessible to smaller businesses with modest media budgets. More technology players in the market mean that programmatic is no longer just for the big brands. The opportunity for smaller companies to compete with the big names, and to disrupt their industries, has never been greater with programmatic advertising.
The barrier to entry for smaller businesses was also accessing the expertise needed to set up a programmatic advertising campaign and keep it performing at optimal levels. Now it's becoming easier and more affordable to leverage programmatic specialists and great agency partners to help you manage an effective programmatic campaign designed to achieve your unique business goals.