The year 2022 has introduced a slew of changes that have increased the level of uncertainty in our economic landscape, not only in Australia but across the world. From the surge in inflation to the war in Ukraine and the ongoing aftermath of the global pandemic, professionals in all industries find it challenging to adapt to this new reality. The rising unpredictability especially pressures marketers, as business leaders expect them to do more with less. With this new normal, marketers must prepare to navigate the changing terrain and find innovative ways to drive their businesses forward.
Marketers who can streamline their operations and optimise their budgets are the ones who stay agile and succeed in a highly competitive market. Traditional marketing methods are no longer enough. Marketers must think creatively and adopt innovative marketing tactics if they want to drive their business forward in this ever-changing environment.
If you are a marketer looking for strategic ways to get one foot ahead of your competition, this guide is for you. The team at Adgility created this article to highlight the top 6 ways leading marketers are powering up their marketing strategy to prepare for 2023 and beyond. With the help of innovative approaches and emerging technology, you and your team will be able to explore new avenues and steer your business toward success.
---
1. CONSOLIDATE MEDIA BUYING TO STRATEGICALLY TARGET YOUR IDEAL AUDIENCE
According to the 2021 digital report by We Are Social and Hootsuite, the average Australian internet user aged 16 to 64 used 8.4 different social media, messaging, and communication platforms daily in January 2021. This includes platforms such as Facebook, Instagram, WhatsApp, TikTok, LinkedIn, and others. Additionally, according to the 2021 Connected Consumer Survey by Deloitte, Australians aged 18 to 75 used an average of 3.3 devices to access video content, including linear TV, video-on-demand services, and other online video sources.
As you can see, Australians are embracing entertainment technology at unprecedented rates, utilising multiple platforms every single day. However, as advertisers, it's important to note that effective marketing doesn't require using every available platform. Instead, smart marketers strategically choose a programmatic platform to streamline their media buying and target their audience over multiple channels and formats, ensuring their marketing budget is efficiently allocated to the right resources.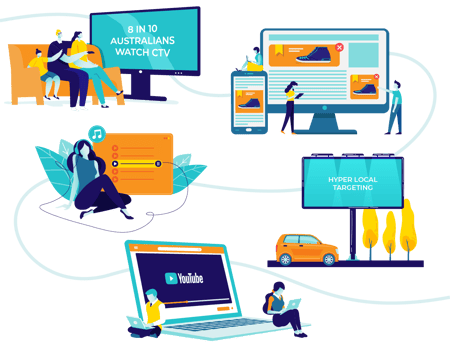 Media consolidation refers to consolidating various components of the programmatic advertising ecosystem, such as data management platforms, demand-side platforms, ad exchanges, and supply-side platforms, to create a more streamlined and efficient advertising process. This can benefit brand marketers by simplifying operational complexity and reducing costs, making it easier to measure and attribute the effectiveness of media spend, resulting in maximised media budget allocation and higher return on investment (ROI).
By leveraging media consolidation using programmatic advertising platforms, organisations now have the power to break down silos and better collaborate cross-functionally, ensuring everyone across the organisation is aligned on a single source of truth and focused on clear objectives.
---
2. SIMPLIFY AD TAGGING FOR BETTER EFFICIENCY AND OPTIMISED AD SPEND
When it comes to improving performance, measurement is key. Website tagging enables marketers to track, measure, and optimise campaigns with precision, giving them valuable, real-time insights right at their fingertips. With website tagging, marketers can easily identify which channels and strategies are driving the most traffic, conversions, and revenue, which they can then use to make better data-driven decisions to support their bottom line. Plus, website tagging helps to eliminate guesswork and reduce wasteful spending, so marketers can focus their efforts on what's truly working.
Tag Manager by Google works by simplifying the process of adding and managing tags on a website. As a result, marketers can easily add code snippets, or tags, to their website without having to modify the website's code directly or depend on a developer.
Benefits of Google's Tag Manager include:
Helps to ensure compliance with data protection regulations such as GDPR and CCPA
Provides a better understanding of user behaviour and website interactions
Enables accurate tracking and attribution of marketing efforts
Allows for the creation of custom tags and triggers
Reduces the risk of errors and improves website performance by minimising the number of tags on the site
Integrates with other Google marketing tools such as Analytics and AdWords
Provides real-time data and insights to inform marketing strategies
Increases efficiency and productivity by streamlining the tag implementation process.
---
3. TAKE YOUR PERSONALISATION TO THE NEXT LEVEL WITH FIRST-PARTY DATA AND PRIVACY FORWARD TOOLS
While consumers want personalised ads, they also care about their privacy. That's why Google created a new solution called PAIR (Publisher Advertiser Identity Reconciliation) on their programmatic platform, Display & Video 360, which allows marketers and publishers to privately and securely reconcile first-party data.
The PAIR solution also protects advertisers and publishers from data leaks by employing triple encryption of their first-party data with three different keys. These include an advertiser key, a publisher key, and a shared key between both parties. These keys are unique for every advertiser-publisher relationship and prevent any party from reverse-encrypting or identifying users.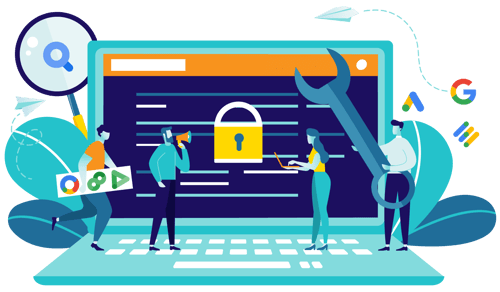 With the help of this tool, marketers can create more meaningful ad experiences for their customers who have already engaged with both the advertiser's and publisher's websites. Now marketers can improve the accuracy of ad targeting and increase engagement greater than ever before. By driving personalisation, PAIR helps advertisers better understand their audiences, establish deeper connections, and create more relevant ad experiences.
---
4. USE AI TO ACCELERATE CONVERSIONS & GAIN MORE CUSTOMERS FOR LESS INVESTMENT
Artificial Intelligence (AI) has changed the digital landscape since its creation. Now AI has infiltrated almost all aspects of business, helping streamline critical data processes and improve both data accuracy and automation.
One of the easiest and most effective ways marketers can leverage this new disruptive powerhouse tool is through a programmatic demand-side platform (DSP). DSP commonly uses a field of Artificial Intelligence called machine learning, which computes real-time data and conducts practical analysis instantly. Marketers who use programmatic platforms can access a vast amount of behavioural data collected from the open internet. This data provides valuable insights that can help predict their target audience's purchasing behaviours and decisions.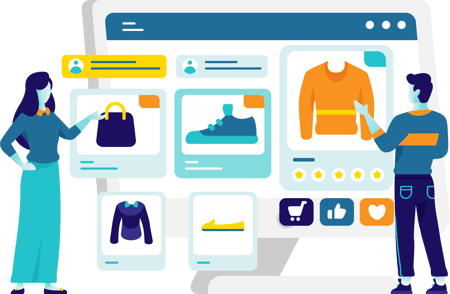 Display & Video 360, Google's programmatic platform, utilises an advanced bid optimisation tool called automated bidding to accelerate decision-making and increase return on investment. Automated bidding purchases ad impressions that are likely to result in a specific outcome, such as a click, conversion, video view, or completion, based on the advertiser's desired primary objective, such as online sales, sign-ups, or subscriptions.
AI can even make digital advertising more profitable for some businesses. In fact, a study conducted by Salesforce, titled "State of Marketing" (6th edition), found that 51% of high-performing marketing teams are more likely to use AI in their campaigns, leading to increased success compared to their peers. By utilising Artificial Intelligence in digital advertising and marketing, businesses can save precious time, money, and resources while demonstrating the real impact of promotional activities on key performance metrics.
---
5. ADD NEW, INNOVATIVE AD CHANNELS & FORMATS TO TEST, LEARN AND ACHIEVE THE 'PERFECT' MEDIA MIX
Consumers no longer have to tune into their favourite TV or radio shows at a specific time each week. With new technological advancements in Connected TV and Audio, consumers have the freedom to access all their go-to shows, music stations, apps, and more at their convenience.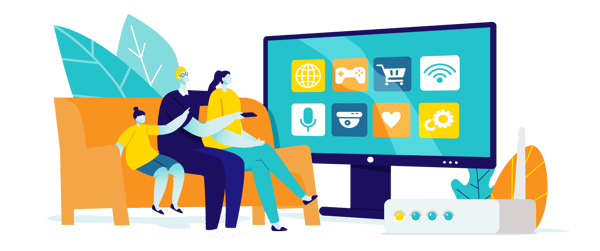 In the eyes of marketers, having consumers streaming, watching, and consuming a variety of content only means one thing - greater opportunity to get in front of the right target audience at the perfect time. Now with the emergence of sophisticated platforms, marketers can also tailor their ad campaigns to their desired consumers while targeting more engaged audience members who are ready to purchase.
By utilising demand-side platforms to automate and streamline the ad-buying process, marketers can make quicker and more efficient decisions for each campaign compared to traditional methods. Additionally, advertising teams can easily identify which ad channels and formats are performing the best, allowing them to strategically adjust their approach and focus on what's working while they determine their ideal media mix.
---
6. MAXIMISE YOUR ADVERTISING BUDGET WITH POWERFUL MEDIA AND CREATIVE INSIGHTS
You don't have to break the bank to see the results of advertising campaigns. By leveraging programmatic media buying, advertising teams can get the most out of each dollar spent and achieve their marketing goals without blowing the budget.
Marketers are now faced with endless options when choosing how to spend their marketing budget. With so many emerging platforms and ad formats available today, deciding which methods will provide the greatest returns can be difficult. However, by harnessing the powerful insights that programmatic media buying provides, advertisers can not only gain pivotal insights into which ad formats resonate best with their audience, but they can also target with precision, allowing them to continuously improve their overall marketing strategy and ROI with each campaign.
Google built Display & Video 360 and Campaign Manager 360 with the intention they would be used together. While one platform covers a user's media buying needs, the other handles all data-driven creative. These products enhance performance by effectively managing a company's target audience, frequency, and reach across different media channels. These products also provide teams with valuable insights and forecasts, helping to simplify the entire media planning process.
---
PREPARING YOUR MARKETING TEAM FOR THE ROAD AHEAD
In today's fast-paced and competitive business world, companies must continuously strive to push boundaries with innovative tactics and advanced marketing strategies to stay ahead of their competition. By adopting a growth mindset, marketers will not only enhance their marketing approaches but also drive their business to new heights.
Sources:
The 2021 Digital 2021 Report by We Are Social and Hootsuite: Source: https://datareportal.com/reports/digital-2021-australia
The 2021 Connected Consumer Survey by Deloitte: Source: https://www2.deloitte.com/content/dam/Deloitte/au/Documents/technology-media-telecommunications/deloitte-au-tmt-connected-consumer-survey-2021.pdf
Salesforce. (2021). State of Marketing, 6th edition. Retrieved from https://www.salesforce.com/news/stories/state-of-marketing-in-2021/
---
Ready to power up your digital marketing strategy in 2023? If so, Agility's team of programmatic advertising experts are here to help. Find out more about how to implement a few of these tips above by scheduling an obligation-free consultation with our team today.