Background
Stamford Hotels & Resorts owns and operates a multi award-winning portfolio of luxury, high-end hotels and resorts in major cities and prime locations throughout Australia and New Zealand.
Adgility was engaged to help Stamford remain relevant and engaging at a time when technologies and methods of communication had made finding hotels and booking a room chaotic and fragmented.
The Challenge
The digital revolution had given rise to 'online hoteliers' such as Expedia and Hotels.com.
They became powerful players, and their agile marketing machines changed the game. The short-term result was a lack of brand differentiation, rising booking commissions and a reliance on the OTAs marketing machine and technology to fill rooms.
The Brief
We were briefed to develop and strengthen Stamford's online brand awareness for their seasonal campaigns across Easter, Winter and Summer. The ultimate goal was to bring more people to the Stamford website and convert them into room bookings.
Our Solution
Adgility's secret to delivering consistent direct room revenue growth was to keep Stamford at the forefront of advertising technology.
As the digital advertising landscape evolved, so did our partnerships with publishers, technology vendors and the way we used their platforms to achieve brand scale and increased room revenue for Stamford.
Harnessing the power of programmatic
To maximise brand visibility across all demographics, we employed full-funnel programmatic advertising across web, social and email.

Using two complementary programmatic platforms, we utilised different channels and formats to align the strategy and convert customers more efficiently.
Creatives that change behaviour
We built a large array of static and rich media display banner assets for web and social channels and email retargeting. Setup included dynamic cart abandonment messaging.
Creative sequencing models were applied to ensure all new and returning visitors were targeted with a relevant message according to on-site behaviour.

Campaign Optimisations
The key to a consistent lift in campaign performance was the daily optimisations applied over the life of each seasonal campaign, which had an immediate impact on driving room reservations.
Reservations by channel
Complete visibility of the channels that were driving higher engagement gave us the confidence to shift more budget into areas that were more likely to increase conversion rates.
Top performing creative
Responding to the data behind the creative ads allowed us to distribute more budget into top performing ads and pause the ones that were getting less engagement.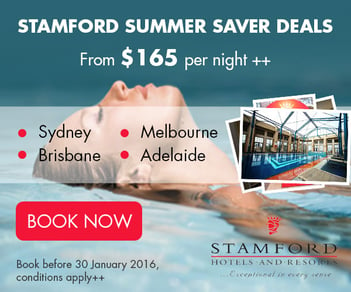 Content categories and sites
Greater visibility over the content and websites that our audiences were engaging with gave us the power and flexibility to adjust bid rates and win more ad impressions on these specific sites.
State of the Art Reporting & Analytics
In 2016 we implemented our advanced Insights & Analytics platform to give Stamford more visibility and transparency over their entire digital campaign performance.
For us, the impact of having all data flowing into a one 'single view' reporting platform was immediate. It made comparing channel performance easier and gave us a powerful edge to make faster, informed decisions and implement granular optimisations 'on the fly'.
The Results
Through the evolution of digital marketing and the introduction of programmatic advertising, we increased Stamford's return on ad spend (ROAS) from 385% to an average of 1,000% plus over six years. This figure represents between 20%-25% of Stamford's direct room revenue.
The Future
Stamford's outlook is brighter than ever. They're perfectly placed to keep growing their direct room revenue and to capitalise on seasonal opportunities using our programmatic marketing model.